Home

/

Contemporary Propagators
Contemporary Propagators
Dharma Master Jingzong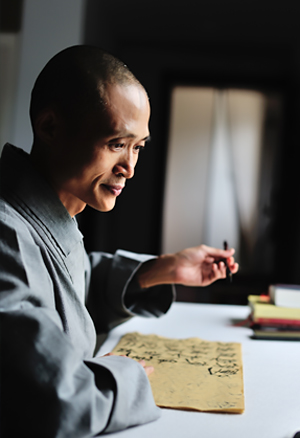 Master Jingzong was born in Xuancheng, Anhui Province, China, in 1966. After graduating from the Civil Aviation Flight University of China in 1986, he worked at the country's Civil Aviation Administration.
  In 1990, he read the Diamond Sutra, developed faith in the Buddha and began a vegetarian diet. He took refuge in the Three Gems a year later. After reading the Writings of Master Yinguang, he inclined towards the practice of Amitabha-recitation. Following the death of his father in 1994, he took monastic vows under Master Rende on Mt. Jiuhua.
  From 2004 to 2007, Master Jingzong built Hongyuan Monastery at Mt. Jingting in Xuancheng, Anhui, as a center for exclusive Pure Land practice. Today he serves as its abbot. With a second phase under construction, Hongyuan is the leading monastery in China dedicated to the propagation and practice of Pure Land Buddhism in the Shandao tradition.
  In August 2012 Master Jingzhong was invited to become the abbot also of Wuzhen Monastery outside Xian, the home base of Master Shandao in the Tang Dynasty. He has since led the ongoing effort to restore the ancestral temple of the Pure Land school to its former glory 1,300 years ago.
  Master Jingzong's publications include The Complete Works of Master Shandao, Brief Talks on the Pure Land School, Speak Only of Amitabha-Recitation, The Splendor and Ease of Amitabha-Recitation, Introductory Explication of the 18th Vow, Discourses on the Essence of the Amitabha Sutra, Discourses on Selected Dharma Quotes of Master Yinguang and Records of the Effects of Amitabha-Recitation (Vols. 2 and 3).
Faith in, and acceptance of, Amitabha's deliverance
Single-minded recitation of Amitabha's name
Aspiration to rebirth in Amitabha's Pure Land
Comprehensive deliverance of all sentient beings